Thursday, 10-May-2018 — Red Button
The Show Bullseye button became a bit smarter, as part of the Automated Topographic Analysis update. In the image below, the bullseye's coordinates appear in small text immediately below the button (-33.8550, 151.2150). Click and drag the bullseye to see these coordinates instantly change. As well, the button sometimes turns red:

It turns red to warn you that the bullseye lies out of view, beyond the edge of the map. When red, the Find Best button still works as usual, but be aware that the search will start from a location not in view.
You can make the bullseye reappear by panning the map in its direction (if you remember where it went), zooming out or simply clicking the Show Bullseye button, to place the bullseye back in the center of the map.
Tuesday, 1-May-2018 — Automated Topographic Analysis
For the past five years, Loxcel's Closest Sites feature has helped our subscribers find nearby cellular sites and assess surrounding topography. Over this period, Loxcel introduced many enhancements, such as aim back, smartphone access, topo preview, steepest peak, Fresnel zone, 3D Google Earth export, bullseye, foliage and overshot detection.
Today we're announcing another enhancement that automates topographic analysis, which previously was performed manually — one-site-at-a-time. What was a manual process is now automatic, saving subscribers time and bringing them closer to the answers they are looking for. This enhancement includes a new control panel:

Some items remain unchanged, like the filter options (Cellular), and the Show Bullseye button, which centers the bullseye on the map. Click Find Best to find sites near the bullseye and — this is the automated part — show only sites with favorable topography.
Click the diagonal arrow in the control panel's bottom-right corner for an expanded view:
Many selections in the new control panel remain unchanged (month/year, antenna height, foliage height, Fresnel percentage and overshot) but two are new: favorable topography (clear LoS) and rank-by (Path Loss).
The options for favorable topography are
Ignore Topo: show all sites and ignore topography,
Clear near-LOS: show sites where the topography does not extend above the top of the Fresnel zone,
Clear LOS: show sites where the topography does not extend above the Line-of-Sight, and
Clear Fresnel: show sites where the topography does not extend up into the Fresnel zone.
Clear near-LOS is the least restrictive and will return more sites; Clear Fresnel is the most restrictive and will return fewer sites. These restrictions guarantee that if there is a site with favorable topography within 65 kilometers of the bullseye, it will now be shown!
The options for Rank-by are
Distance: show sites with shortest distance first, and
PathLoss: show sites with lowest path loss first.
Notice that the expanded control panel's first row forms a complete English sentence, describing exactly what sites to find and in what order to show them: Find Best Cellular sites with clear Line-of-Sight from May 2018 ranked by Pathloss.
Automated topographic analysis relies on over 1,000,000 megabytes of elevation data hosted locally on our servers. It is sourced from Natural Resources Canada, Geoscience Australia, and NASA's Shuttle Radar Topography Mission, a joint project of NASA, the German and Italian space agencies, and the National Geospatial-Intelligence Agency. This mission flew aboard the Space Shuttle Endeavour in February 2000, mapping Earth's topography between 56° S and 60° N. During the 11-day mission, the crew (at right) used an imaging radar to map the surface of Earth numerous times from different perspectives. The combination of these radar data were processed at JPL to produce a global topographic map created by bouncing radar signals off Earth's surface and back to the shuttle.
This radar did not penetrate dense vegetation, so the green topographic profile (shown below) follows the tops of dense vegetation and similar ground clutter. Our analysis also uses alternate ground-based elevation data to anchor cellular structures firmly on the ground, and to calculate antenna heights.
Shuttle STS-99 Crew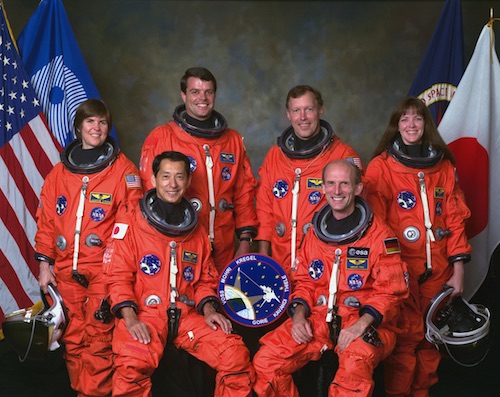 Another enhancement shows lakes and other water bodies that lie between the bullseye (at left) and the site (at right):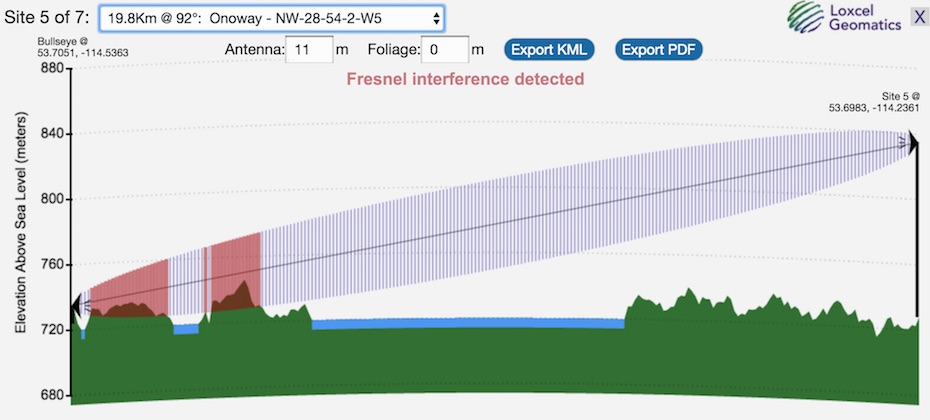 Elevation data — even from NASA — is not 100% perfect, and cannot replace a physical site survey. Canada Cellular Services subscribers please note that automated topographic analysis currently supports searches below 61° N latitude.
If you have any questions about Automated Topographic Analysis, please let us know.