Friday, 2020-Jan-10 — State of the Nation (Canada)
The graphs below show cellular site counts for Canada's 20 most populous Census Metropolitan Areas (CMA), ordered by population (most populous first). They provide more detail than the site graphs we have published monthly since Jan 2019.
A CMA comprises one or more adjacent municipalities and townships that are closely integrated in some way. For example, the Toronto CMA consists of the city of Toronto along with Mississauga, Brampton, Markham, Vaughan, Richmond Hill, Oakville, Ajax, Milton and 15 other smaller townships. In contrast, the Halifax CMA consists of the municipality of Halifax by itself.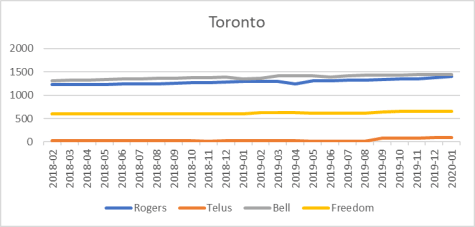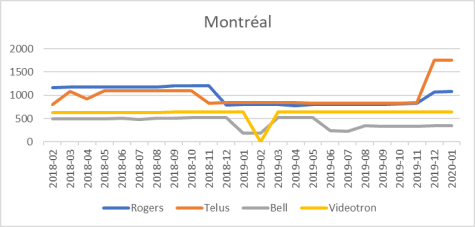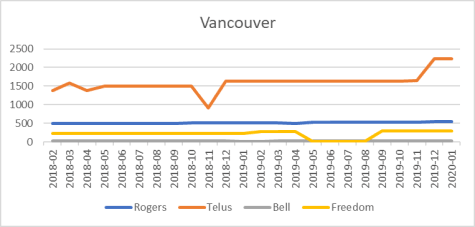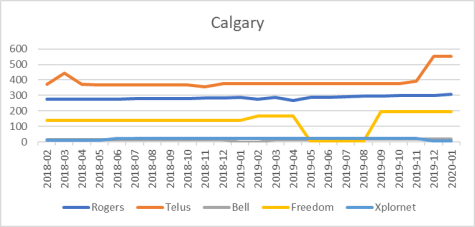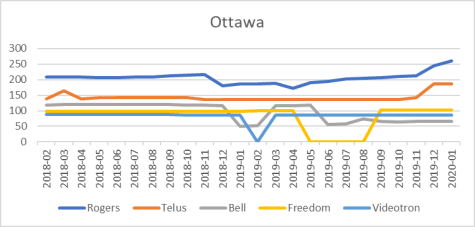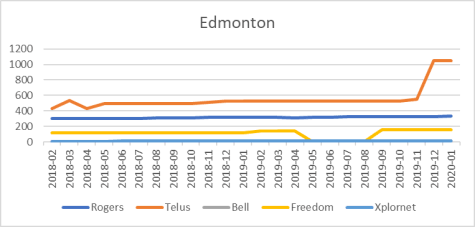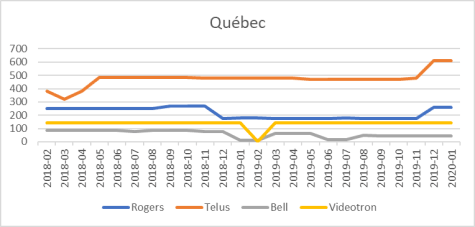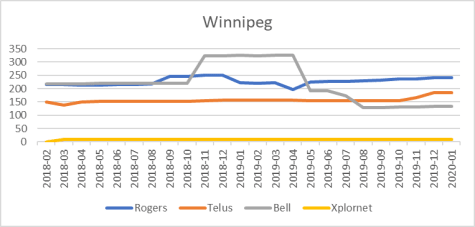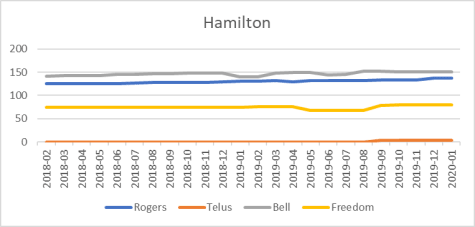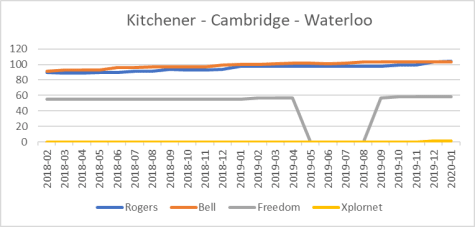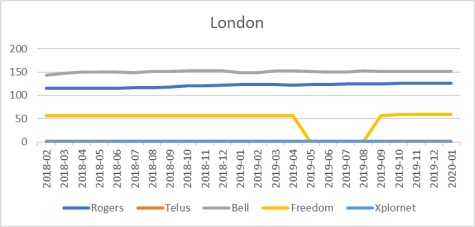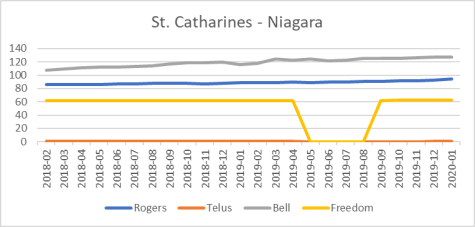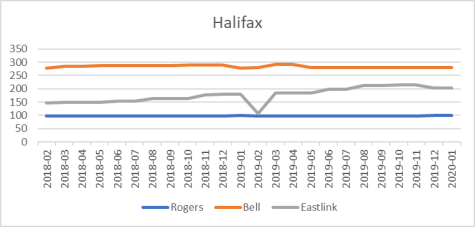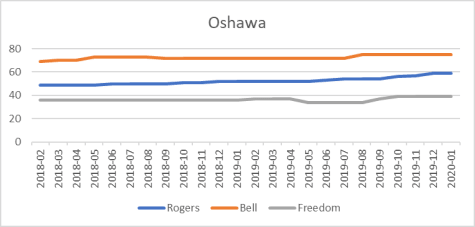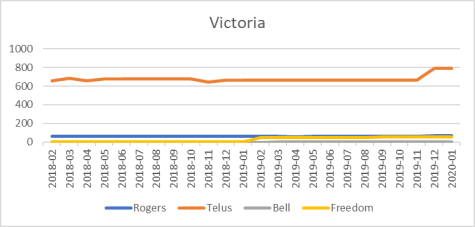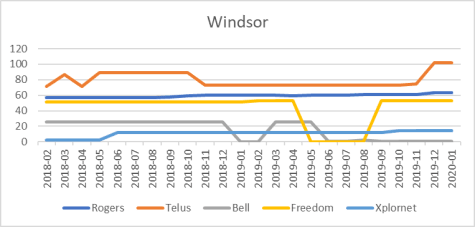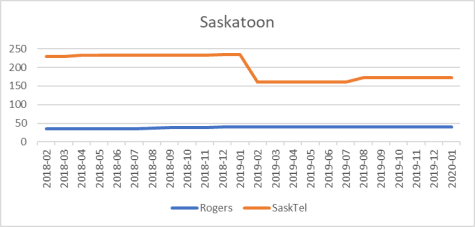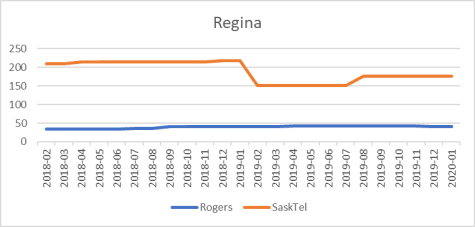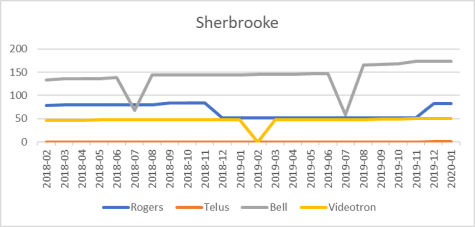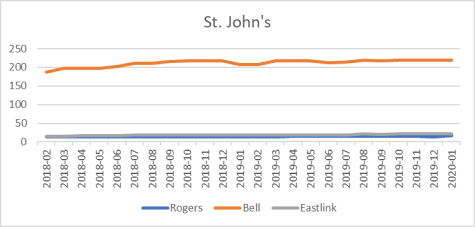 We can perform custom analysis of Canada's cellular & fixed wireless sites, channels & bandwidth capacity along other census geographies, from as small as the neighborhood to as large as the nation. Please contact us for more details.
Monday, 2020-Jan-06 — January SMS Snapshot Corrects Rogers Coverage
Last month, Rogers added 92 sites across Ontario and 583 sites across Quebec, which you can see in the sudden rise of the red line in the top-left graph below. But, most of these sites are not new, but only a correction to the disappearance of a similar number of sites one year earlier.
In short, SMS snapshots from Dec 2018 to Nov 2019 do not accurately represent Rogers coverage across Quebec and Ontario.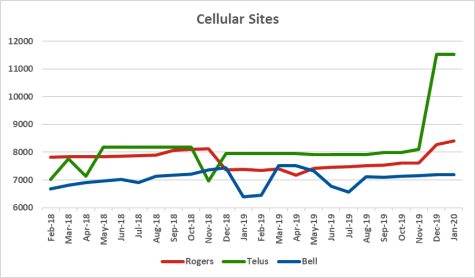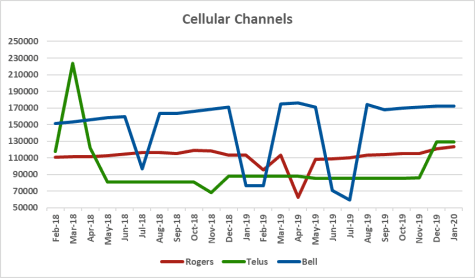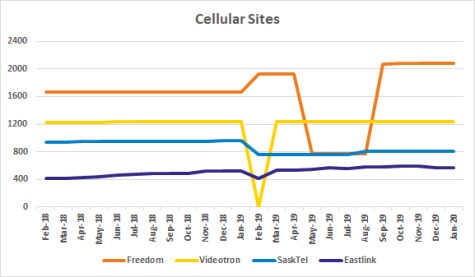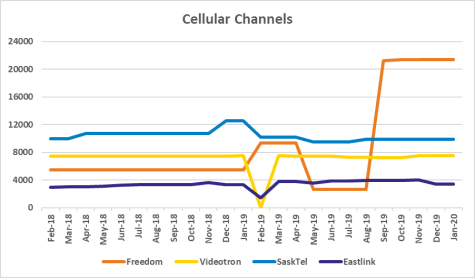 SMS snapshots should not be used as-is, as they can exhibit some or all of the following issues:
fragmented location: multiple discrete site locations reported for one site (example).
skewed location: site reported 100+ meters from actual location.
duplicate records: network capacity reported exceeds actual capacity.
missing records: no reports of coverage where coverage actually exists.
incorrect units: channel capacity reported as 10 KHz instead of 10 MHz.
invalid values: spec says "zone enhancer flag must be 'Y' or 'N'" but values reported are null or 'ZE'; 688° vertical elevation, etc.
incorrect street address
We monitor SMS snapshots and supplement with proprietary and 3rd party data so that Canada Cellular Services provides the most accurate representation available of Canada's wireless landscape.