Friday, 11-Dec-2015 — Center map by CELL ID
In addition to centering the map by site code and Alberta Township System, you can now center by CELL ID:

As shown above, a CELL ID consists of four numerical values:
You can enter these four values in the placename box, in one of three formats:
| Format | Description |
| --- | --- |
| 302 880 10 10217 | Four decimal numbers, separated by a space |
| 302 880 xA x27E9 | Same as above, except LAC and CID are in hexadecimal |
| 302880000A000027E9 | Same as above, except MCC, MNC, LAC and CID are combined into one 18 character string |
Tip: Call *3001#12345#* from any iPhone to enter Field Test Mode. Then tap Serving Cell Info. Your LAC will appear next to Tracking Area Code and CID will appear next to Cell Identity.
Tuesday, 10-Nov-2015 — Bullseye!
The popular Closest Sites feature of the Canada Cellular Services has swapped its crosshairs for a bullseye:

Closest Sites still presents you with one-click access to the closest cellular and wireless broadband sites, with distance, bearing and topography. What's changed is how you tell it where to search.
Previously, a search used the location of the crosshairs, fixed at the center of the map. Customers asked if there was a way to move the map, while at the same time preserving the location where Closest Sites would perform its next search.
As a result, we replaced the crosshairs with a movable, circular bullseye, which Closest Sites now uses to perform its search. The bullseye stays where you move it: no matter where you move the map, the bullseye preserves your location. This means the bullseye can slide out of view. To find a lost bullseye, simply click the new Bullseye button.
These changes are the result of feedback from customers like you! We're interested to hear from you about these, or any other changes you would like to see made to the Canada Cellular Services.
Tuesday, 3-Nov-2015 — Cellular Spectrum Capacity (by city)
Early last year, we produced a graph of per capita cellular site counts for Canada's 30 largest cities. The graph below provides a similar "coast to coast" analysis, but instead looks at cellular spectrum capacity by band: 700, 850, 1900, 2100 and 2500MHz.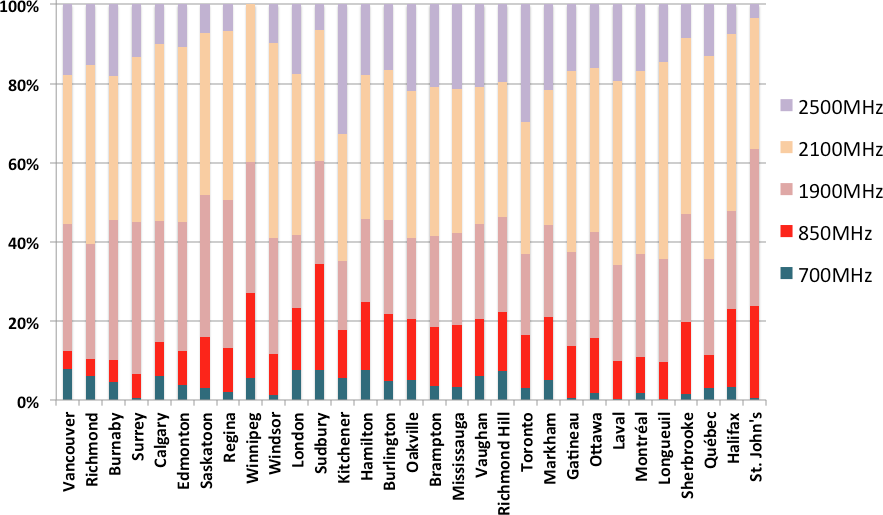 Overall, the largest bandwidth capacity lies in the 1900MHz and 2100MHz bands. Relative to other cities, Kitchener and Toronto have the greatest capacity in the 2500MHz band.
Thursday, 17-Sep-2015 — Stealth Site Construction
The photos below chronicle the construction of Bell site W4925, a 12 panel stealth monopole in Mississauga, Ontario, at the intersection of Ridgeway Dr & Dundas St W.
The benefits of shrouding become clear, after you compare the photo in the middle with the photo to its right. The shrouding hides the industrial ugliness of the 12 naked antenna panels, presenting the public with something vaguely ambiguous, like a flag pole — minus its flag. What's not to like?
Installing Antennas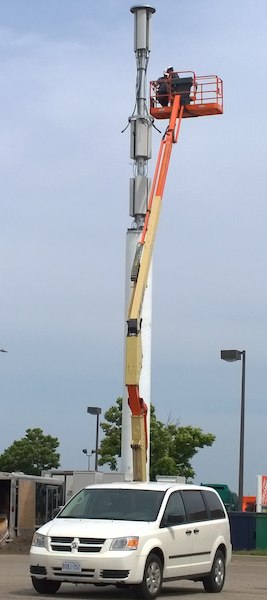 No Shrouding

Shrouding installed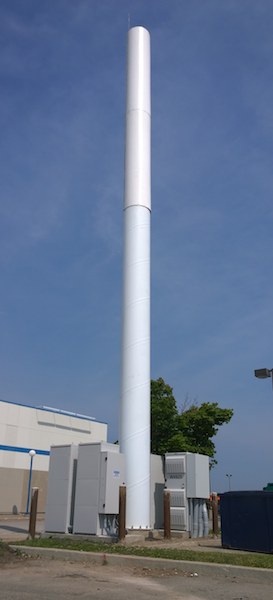 Shrouding waiting to be installed

Wednesday, 8-Jul-2015 — 3D Fresnel Zone
Last month's Closest Sites redesign added a 2-D Fresnel zone to the green topographic graph. Our subscribers found this very helpful, but then asked: "Could we also view it in 3-D?"
You can now. We've added an Export 3-D Fresnel Zone button, centered above the topographic graph. Click it to download a file containing the same Fresnel zone, but in 3-D.
View this file in Google Earth, optionally with a 3DConnexion SpaceNavigator, to identify topography, buildings and other obstructions that intersect this Fresnel zone, and may cause radio interference. (Watch the video below for an example.)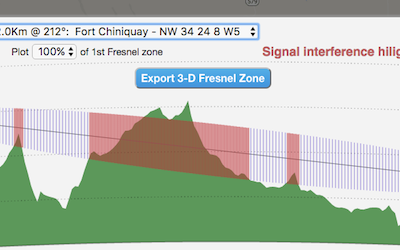 Thursday, 18-Jun-2015 — CCI Wireless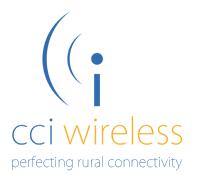 Today, we welcome CCI Wireless as the 11th wireless broadband licensee to the Canada Cellular Services. Founded by Natural Gas Co-ops from across Alberta, and headquartered in Calgary, CCI offers Internet service to many rural areas across Alberta.
They currently rank #3 in site count among wireless broadband licensees, with 149 sites, vs 195 for Inukshuk and 722 for Xplornet.

Tuesday, 16-Jun-2015 — "Closest Sites" Redesign / 2D Fresnel Zone
A quick & easy way to identify signal interference.
Wireless installers & troubleshooters value the simplicity & power of the Closest Sites feature of Canada Cellular Services. One click, and you're shown signal interference between your location and nearby cellular & wireless broadband sites.
We recently spoke with a subscriber who uses a 3rd party tool to plot the Fresnel zone against land formations to identify interference.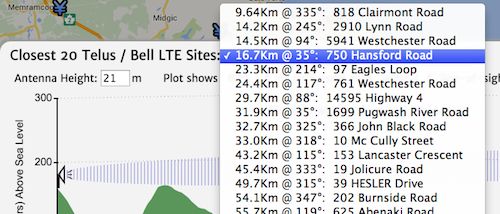 The Fresnel zone has broad application to our other subscribers, so we made it central to the redesign of the Closest Sites feature:
In the example above,
your antenna is to the far left, 17m above ground and 121m above sea level,
carrier antenna is to the far right, 41m above ground and 138m above sea level,
wide oval is the Fresnel zone between these antennas,
red areas in the Fresnel zone hilight where it overlaps the ground, showing areas of interference,
green shaded region represents the ground elevation between these antennas,
curved elevation lines at 40m, 80m, 120m, etc. reflect the earth's curvature,
Antenna Height parameter (top-left) controls the height of your antenna (eg. 17m above terrain),
six Show In Graph buttons (bottom-left) select the carrier antenna.
Here are some ways to reduce interference:
increase your antenna height,
select a carrier antenna farther up the tower,
select a carrier antenna with a lower frequency,
reduce the percentage of concern (100% of the 1st Fresnel zone is shown, but 60% is usually sufficient) or
choose another site.
In short, one click of the Closest Sites button can model potential interference between your antenna and any of the 250,000+ cellular & fixed wireless antennas across Canada. This model also considers the earth's curvature, which is important for distances beyond 5km.

Fresnel Zone (Background Info)
The image at the right shows a point-to-point communication link. Although the tree in the middle is below the line-of-sight, it still might cause signal interference. Why? Because the tree intersects the oval-shaped Fresnel (fra-NELL) zone. Signal interference depends on a clear Fresnel zone; the line-of-sight is irrelevant.
As well, for distances greater than a few kilometers, the earth's curvature can elevate flat, obstruction-free land into the Fresnel zone, further increasing interference.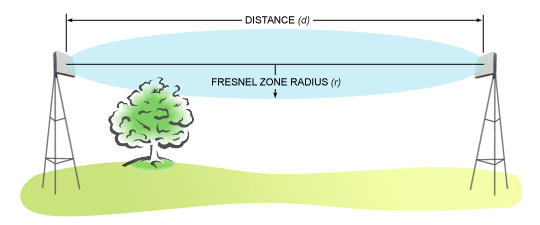 Friday, 15-May-2015 — Smartphones Are Gobbling Up OTA Spectrum
Most Canadians access digital TV via their cable or satellite provider — and for this, they pay a monthly fee. About 10% of us, however, access digital TV over-the-air (OTA) — and pay nothing.
OTA was originally allocated 480MHz of spectrum, divided into 81 analog NTSC channels. Between 2009 - 2011, OTA transitioned from NTSC to higher-quality ATSC (digital), supporting 1080i and 720p HDTV.
Although OTA is available to 97% of Canadians, only 10% currently use it. This low penetration has consequences.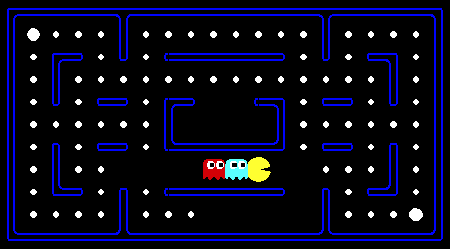 As a wireless service, OTA has relied on the following spectrum:
| Channels | Frequency Range | Current Allocation |
| --- | --- | --- |
| 2 - 6 | 54 - 88MHz | ATSC Digital TV programming |
| 7 - 13 | 174 - 216MHz | ATSC Digital TV programming |
| 14 - 36 | 470 - 608MHz | ATSC Digital TV programming |
| 38 - 50 | 614 - 692MHz | ATSC Digital TV programming (for now) |
| 52 - 69 | 698 - 806MHz | Reallocated in 2009 to mobile broadband service |
| 70 - 83 | 806 - 890MHz | Reallocated in 1983 to cellular and related services |
As shown above, 192MHz of OTA's 480MHz of spectrum has been reallocated, which in theory maximizes its utility. So, it isn't a surprise that Industry Canada recently opened consultations on reallocating the 600MHz band. Essentially, it's weighing these two options for channels 38 - 50:
Keep these channels for digital TV, or
Reallocate these channels to mobile broadband.
As the tide goes out for OTA users, beachfront property is created for mobile broadband providers. One organization, PIAC, opposes reallocating the 600MHz band, which you can read more about here.
Wednesday, 6-May-2015 — Rogers 2G Coverage
Although largely abandoned by smartphone subscribers, 2G remains an important service for Machine-to-Machine (M2M) communications.
Rogers remains the only Canadian carrier to offer 2G service. We've been tracking changes to their 2G network capacity, as shown by the graph to the right.
The most recent drop affects the following regions:
| Region | 2G Site Count Decrease |
| --- | --- |
| Southern Ontario | 5% |
| Northern British Columbia | 100% (none remaining) |
| Vancouver Area | 81% |
# Rogers 2G Antennas (Dec 2013 — May 2015)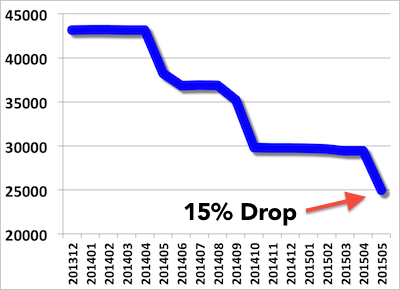 This drop represents 15% of their 2G antennas and 14% of their 2G sites. We believe this move by Rogers will allow them to redeploy this spectrum and offer even better LTE service to its cellular subscribers.
Monday, 4-May-2015 — Find Site by Site / Tower Code
Most carriers assign each site a unique site or tower code.
These site codes are usually printed on the equipment or shed at the base of the site, as shown by the photo of Bell site W1403 (at right).
The Canada Cellular Services search box, located in its upper-left corner (see below), now lets you search for a site by its site code.
Site codes are unique across an individual carrier's sites, but not across all carriers' sites. For example, Rogers and Bell both use W1891 to identify their sites; however Rogers site W1891 is in Winnipeg, and Bell site W1891 is in Sault Ste. Marie.
To indicate you want Rogers site W1891 — and not Bell site W1891 — you must prcede the site code with the carrier abbreviation followed by a colon. Here are a few examples:
| You Type | Map Will Center On |
| --- | --- |
| R:W1891 | Rogers site W1891 in Winnipeg |
| T:AB0104 | Telus site AB0104 in Edmonton |
| B:W1891 | Bell site W1891 in Sault Ste. Marie |
| W:OTR0697 | Wind site OTR0697 in Toronto |
| E:PEI021 | Eastlink site PEI021 in Charlottetown |
Canada Cellular Services currently supports over 13,000 sites from Rogers, Telus, Bell, Wind and Eastlink. We will expand support to other carriers, as data becomes available.

Friday, 1-May-2015 — 700MHz MBS State of the Nation




Bell deployed 327 MBS 700MHz antennas recently, which increased the national MBS site count to 2,723. Here is a count of MBS sites & antennas, nation-wide:
| Carrier | Sites | Antennas |
| --- | --- | --- |
| Rogers | 1,345 | 6,581 |
| Telus | 701 | 2,103 |
| Bell | 690 | 2,094 |
| Eastlink | 7 | 21 |
Further analysis of carrier antenna and site deployment data shows that
Rogers and Bell deployed their MBS service almost exclusively at existing sites,
Telus deployed its MBS service exclusively at existing sites,
Eastlink deployed its MBS service at new sites only.
Wednesday, 29-Apr-2015 — Rogers 700MHz MBS Update
Rogers recently deployed 7,579 antennas, and a net site count increase of 27.
This includes 6,579 MBS 700Mhz antennas.
With this addition, Canada Cellular Site now hosts 2,629 MBS 700Mhz sites, more than double what it hosted a few months ago.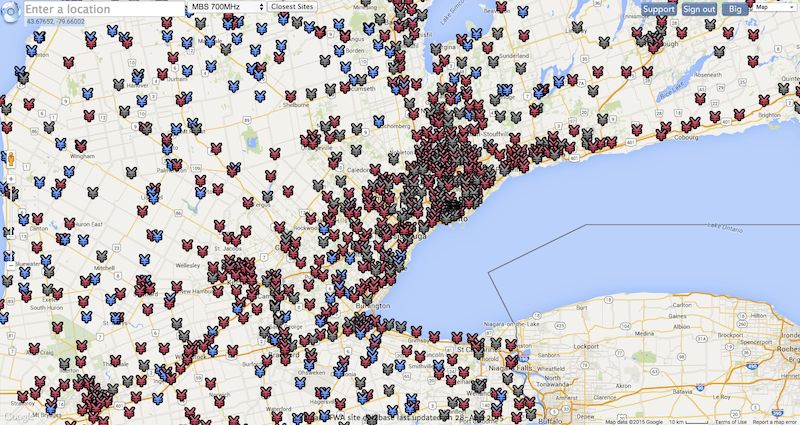 This deployment also shows that Rogers is reusing existing sites, instead of deploying (costly) new sites.
Friday, 24-Apr-2015 — Telus Site Visit
Every day, we receive information about updates the carriers have made to their cellular and broadband sites. These updates are applied to the Canada Cellular Services.
Yesterday, Telus reported 14,663 new antennas, and a net site count increase of 145. The bulk of these antennas were deployed at existing sites, and illustrates a mistake analysts sometimes make when measuring the growth of cellular capacity across Canada.
Most of these new antennas were deployed in Western Canada; as well, Telus abandoned over 200 sites in Eastern Canada.
Telus site ON0458 is one of these abandoned sites. Its six antennas resided 40 meters above ground, on an electrical transmission tower in Burlington Ontario, on the east site of Walkers Line just south of Dundas St. Photos of this tower and the remnants of this site are to the right and below, respectively.
The photo of the transmission tower (at right) clearly shows antennas and cabling extending down its left side. It looks as if the site is still there!
But, look a little closer and follow the cables. The middle photo below shows the cables terminate about five feet above ground level. The photo to its right shows a cross-section of these six cables, one for each antenna.
Other abandoned sites we visited were stripped of everything: cabling, brackets, antennas, shelter, radios, etc. Perhaps the salvage value of what was left behind at Telus site ON0458 was worth less than the cost of their retrieval.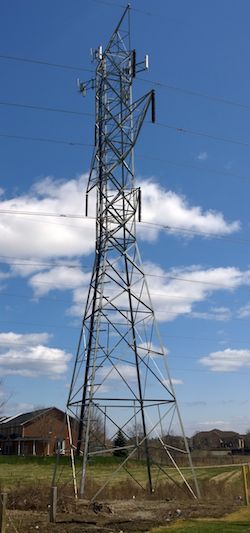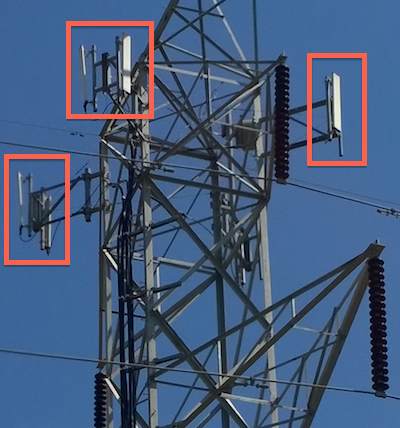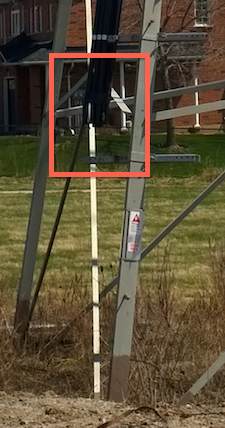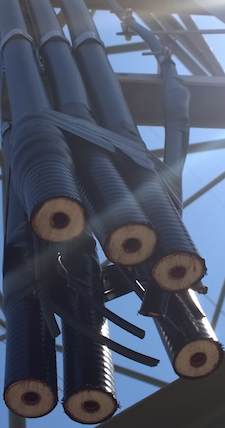 Thursday, 2-Apr-2015 — Xplornet Coverage Doubled
Reports of site expansions, colocations and new / decommissioned sites quickly make their way to the Canada Cellular Services.
Since last November, we started tracking wireless broadband licensees, such as Xplornet, whose site count more than doubled from 247 to 523:

Did you notice the coverage gaps around Toronto and Montreal? Xplornet, like other wireless broadband licensees, serves primarily rural areas, leaving Rogers, Bell and other cable, DSL or FTTx providers to take care of subscriber-dense urban areas.
Wednesday, 4-Mar-2015 — Lat / Lon Indicator & Enhanced Tool-tip
Two small additions to Canada Cellular Services:
Lat / Lon Indicator: shows coordinates of the center crosshairs.
Enhanced Tool-tip: hover over a cell site marker to see structure height & type (where available) and list of carriers and site codes.
Lat / Lon Indicator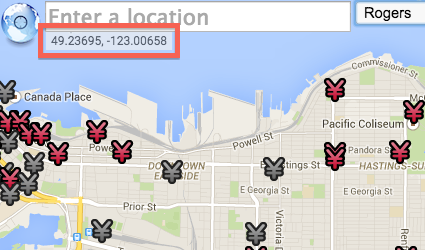 Enhanced Tool-tip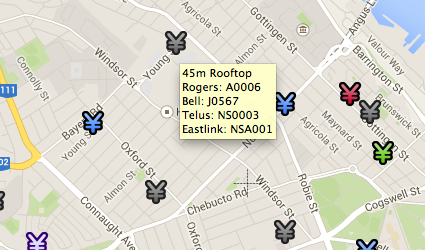 Thursday, 26-Feb-2015 — Site Summary Info
The upper-right corner of the site info window provides new information, including last modified date, site coordinates & surrounding population, structure height & type (where available), city, province and carrier & antenna counts:

Structure height is the total height above ground level of the structure on which the antennas are mounted. For equipment mounted on a building or its boundaries, the height includes the building and the supporting structure. (Bell sometimes incorrectly omits building height from its calculations.)
Surrounding population has four categories, as defined by Statistics Canada:
| Category | Description | Population |
| --- | --- | --- |
| Rural | Rural area | Less than 1,000 |
| Small Pop. | Small population center | 1,000 — 29,999 |
| Medium Pop. | Medium population center | 30,000 — 99,999 |
| Urban | Large urban population center | 100,000 or more |
Currently, only a few hundred sites have a structure type; this number will increase as we continue with our site survey.
Friday, 16-Jan-2015 — Eastlink's Westward Expansion?
Every day, we monitor the growth and movement of carriers' cellular deployments Canada-wide.
Deployment of MBS 700MHz has been slow, with most activity coming from Bell. So, it was a surprise to see Eastlink, a regional carrier covering Nova Scotia and PEI, taking 700MHz footsteps in New Brunswick and Ontario: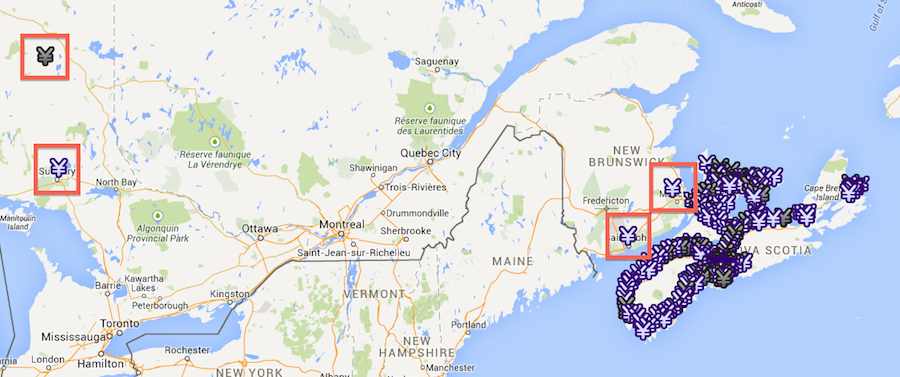 The red squares hilight Eastlink's four new 700MHz cellular sites in Timmins, Sudbury, Saint John and Moncton.
Current
2022
2021
2020
2019
2018
2017
2016
2015
2014
2013
2012