Friday, 2023-Jan-20 — January Update (Canada)
The graphs below plot the most recent 18 months of ISED SMS snapshots, by channel count (top), occupied spectrum (middle) and site count (bottom), for the three national (left) and four regional (right) carriers.
Rogers' graphs (red) naturally trend upwards, capturing the growth of its network. Telus' (green) and Bell's (blue) graphs see-saw up and down, hilighting the inconsistencies of these snapshots.
We fix these snapshots to ensure Canada Cellular Services provides the most accurate account of Canada's wireless networks available.
Site Counts
Filter
Dec-22
Jan-23
Increase
700 MHz B12
5,183
14,278
9,095
Telus/Bell LTE
22,864
24,938
2,074
Bell
8,337
10,101
1,764
AWS-3
6,209
7,703
1,494
Telus/Bell 5G
698
1,615
917
700 MHz B29
4,813
5,012
199
Rogers 5G
4,511
4,581
70
Channel Count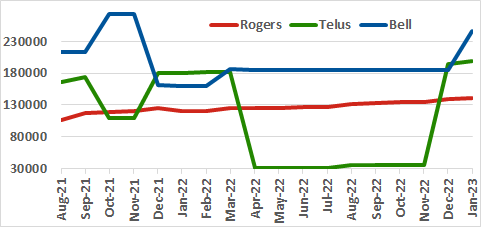 Channel Count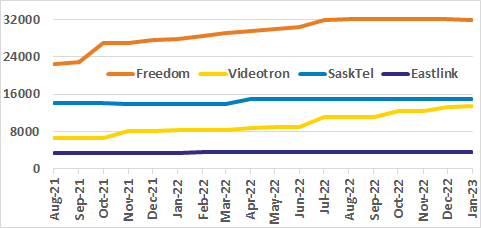 Occupied Spectrum (GHz)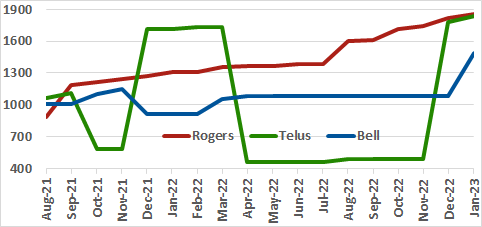 Occupied Spectrum (GHz)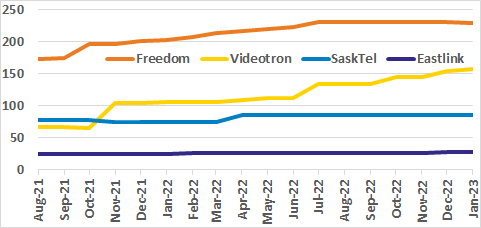 Site Count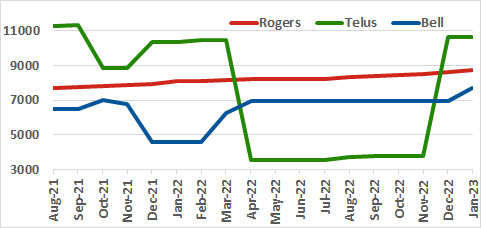 Site Count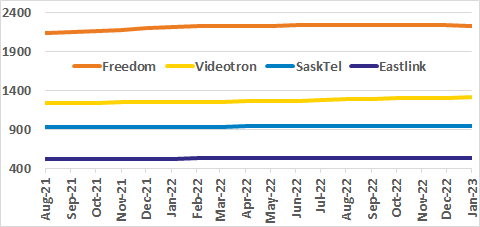 Wednesday, 2023-Jan-11 — The Most Perfect Digital Elevation Model (DEM)
Intro
Our previous study used ICESat-2 ATL08 as the ground truth to assess the quality of six Digital Elevation Models (DEMs). Today's study uses a more accurate LiDAR ground truth with 6 - 26 pulses / m2 and a vertical accuracy of 5 - 10cm — the height of a chipmunk!
The accuracy of this LiDAR data is so good that we turned the tables, using it to assess the quality of ICESat-2 ATL08, too.
We use WorldCover 2021 to focus our study on these three land cover classes across 62,000 km2 of Ontario, Canada:
Grass & crop land: short, pervious clutter comprising 47% of study area,
Forest & tree cover: tall, semi-pervious clutter comprising 48% of study area, and
Urban, developed & built-up: impervious clutter of various heights comprising 5% of study area.
We use the Horn method with FABDEM to classify the slope at each LiDAR pixel: 44% flat, 40% gently sloping and 16% hilly.
In total, our study compares 223 billion 0.5m LiDAR pixels to these 10 DEMs:
Methodology
For DEMs # 7 & 8, for each ATL08 record, find the LiDAR pixel (if exists) that contains ATL08's location. For all other DEMs, for each LiDAR pixel, use its location to interpolate the DEM. Error = elevDEM - elevLiDAR. (Elevations are normalized to WGS84 ellipsoidal heights.)
ATL08's h_te_uncertainty parameter measures systematic uncertainties that can affect elevation accuracy. We use this parameter to create two DEMs: DEM #7 elevations are less uncertain than DEM #8 elevations. ATL08 is not a general-purpose DEM; however, it measures both terrain and canopy heights (not part of our study) which can support new use cases.
Results
Use our new DEM Explorer to compare error distribution curves across 10 DEMs, 3 land covers and 3 slopes. See where and how NASADEM improves on SRTM. The browser URL automatically updates to capture what you see; cut and paste this URL into an email to share your discoveries with others. DEM Explorer helps you understand the nature and magnitude of DEM errors, illustrating that there is no most perfect DEM.
DEM quality is sometimes expressed through statistics, as RMSE values with millimeter precision. Statistics are easy to compare, but watch out: RMSE values for the same DEM, land cover and slope vary from LiDAR project to LiDAR project by up to 0.2m. These statistics are not as meaningful as the numbers' magnitudes suggest. This is why we round statistics to 0.1m; higher precision captures only terrain noise — chipmunks & acorns — and is a cognitive distraction.
Mean Absolute Error or MAE is another metric we cite. Like RMSE, MAE is an average of errors, but less sensitive to extreme outliers.
DEM quality must also consider use case, budget, licensing and coverage. For example, FABDEM provides — by far — the best quality statistics for flood or landslide modelling. Commercial users might find its restrictive license negates its technical superiority. MERIT, NASADEM (coverage limited to 61N; quality degrades quickly in areas with large asphalt surfaces) or even Copernicus GLO-30 (COP30) are all technically inferior to FABDEM, but might be more suitable, otherwise.
We use DEMs to model radio frequency (RF) propagation. RF propagation is sensitive to surface clutter, which COP30 and AW3D30 capture a little better than NASADEM and SRTM and much better than FABDEM (by design). AW3D30 and COP30 have similar licensing terms, but COP30 is unavailable in Armenia and Azerbaijan.
Every DEM is different, giving each some unique purposes. Our use case (RF propagation) favors COP30, with free access, near global coverage and good representation of surface clutter. It also has a junior edition (COP90) ideal for smartphone applications or where storage and computation is limited. For your use case, a different DEM might be your most perfect digital elevation model.